Work, wellbeing, and scarcity
Content for week of Monday, June 20, 2022–Friday, June 24, 2022
Readings
Introduction and 4.1-4.12 in Economy, Society, and Public Policy1
Chapters 2 and 6 in Naked Economics2
Anuschka de Rohan, "Why dolphins are deep thinkers", The Guardian, July 2, 2003 (first 3 paragraphs only)
Charles Duhigg, "Warning: Habits May Be Good for You," New York Times, July 13, 2008
Randall Munroe, "Cost of Pennies"
Randall Munroe, "Working"
Other useful resources
I pause a couple times during the lecture sections on indifference curves and utility maximization and I mention that you should watch these videos. Here are those videos:
Also, a complete walkthrough of how to maximize utility with algebra and graphs is at the "Utility maximization" guide in the resources section.
Slides
Download the slides from today's class.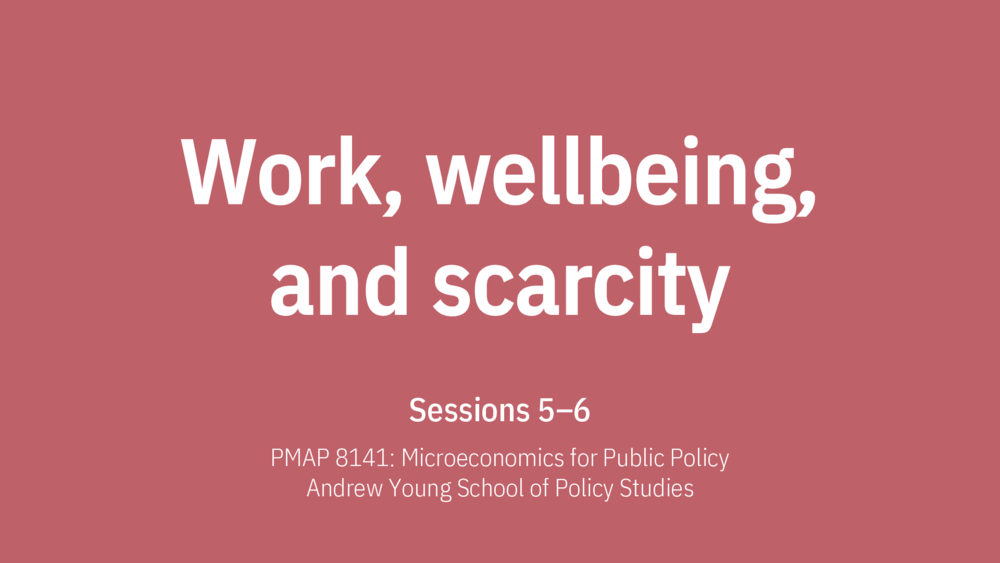 Videos
Videos for each section of the lecture are available at this YouTube playlist.
You can also watch the playlist (and skip around to different sections) here:
---
The CORE Team, Economy, Society, and Public Policy, 2019, https://www.core-econ.org/espp/. ↩︎

Charles Wheelan, Naked Economics: Undressing the Dismal Science, 3rd ed. (New York: W. W. Norton & Company, 2019). ↩︎